SWIMMING-A SKILL AND SPORT FOR LIFE
Swimming offers more health and safety benefits than virtually any other sportAt waves Swim Academy,We offer a wide variety of swimming programs, including Learn to swim program for kids, Learn to swim Program for Adults, Learn to Swim program for Ladies, Membership program for all age groups and leisure swimming.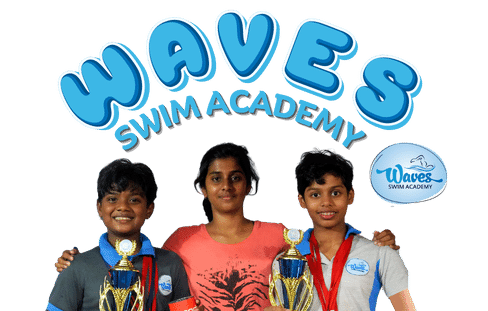 Our swimming classes for kids have a low student-to-teacher ratio to ensure maximum safety, learning and fun. Studies show that a stimulating environment with supervised and guided play is essential for a child's cognitive development. We incorporate this science into our swimming programs for kids to ensure that our swimmers receive the most exciting and beneficial learning experience.
Discover Your Child's Potentialwith Our Swimming Lessons
We help children and adults to learn how to swim. It's a fantastic experience that opens up new possibilities for everyone, as well as supporting their confidence, enjoyment and safety in the water.
Given below is the schedule for the ongoing learn to swim which also has an exclusive timing for ladies to be conducted by a lady swim coach.
Morning
06.00 A.M - 07.00 A.M;
07.00 A.M - 08.00 A.M;
08.00 A.M - 09.00 A.M;
09.00 A.M - 10.00 A.M;
10.30 A.M - 11.30 A.M;
Evening
03.00 P.M - 04.00 P.M;
04.00 P.M - 05.00 P.M;
05.00 P.M - 06.00 P.M;
06.00 P.M - 07.00 P.M;
07.00 P.M - 08.00 P.M;
This wonderful facility is located at No.92, M.K. Nagar Main Road, Zamin Pallavaram, Chennai - 600117 (Off 200 feet Pallavaram - Thoraipakkam Radial Road), about a kilometer on the right side from Kilkattalai – Thoraipakkam Radial Road junction. The size of the pool is 25m x 12m x 1.2m divided into six lanes each of 2m.